Profile Scribbles! [ x view all ]

(08-31-2014 at 11:49 AM)
huneybee
would you sell it to me for $1000? I really want this background for my favorite dog, I am willing to pay all my ala cash for it :)

---

(08-31-2014 at 11:43 AM)
huneybee
can't afford it, just saw it was up for 5000, all I have is $1000 :(

---

(08-31-2014 at 11:40 AM)
huneybee
well, i haven't got much money on here :(


Welcome to the Sieg'Mut Kennels, where the breed standard is exceeded. I breed my dogs based off of the breed standard of the real life German Shepherd standard. I strive for the best of the best, which is why I'm starting from the ground up. As of now, I only have 1st generation, or foundation, GSDs. This is because I intend to build up my own line from these four amazing starter dogs. Three of them come from foundation auctions while Aldae is my own custom creation. My main focuses are colouring and TP, although I will not be racing for Top Dawg any time soon, I will be breeding maxed dogs to maxed dogs only, absolutely no exception. Further more, I will be actively competing all of my eligible dogs in trials to prove themselves further.

I will breed out of kennel but only to maxed dogs/bitches. I will also only breed to colours that are specifically allowed by the breed's standard. I will do 5-10 pup predictions per match up and if I'm not happy with any of them then I will also refuse a breeding. I can refuse a breeding for any reason, if I say no please drop it. I will not try to produce puppies that I wouldn't intend to keep myself. Any puppies that are born that do not conform to the standard will be sold as "pet quality" dogs to owners at a discounted price.

If you are interested in future breedings please let me know so I can mark you down as a prospective new home for offspring. I will let you know if I intend to breed the two that you mentioned and if so, I will contact you once the puppies arrive for you to choose one. Prices will vary depending on TP. I will reimburse 50% of the cost you paid if you max your dog before it's first breeding. You must come to me and let me know, as I will not keep track and remind you.

Training sessions are always much appreciated! If you have a few that you won't be needing for that day, pick a dog and help me out :) We love it when members come and help us out.

I may not be much yet but I have hope that I'll one day stand tall with the rest of you. I'm always open for tips/tricks so please, if you feel like sharing, do so!

I'm always looking for other shepherd lovers who would love to help build a line with me. If you are just getting started and are looking for some support or if you are a long time GSD (or anywhere between the two of course) and would like to lend a helping hand, I'm your gal!

Thanks for visiting! Please don't forget to check out my shop! We've got lots of deals going on. Most proceeds go back into the kennel so don't hesitate to spend that money!

Below are customs that I've yet to create that I think look pretty similar to my own real life dogs. I'll add pictures of them later and let all of you decide. Hopefully one day I'll be able to make all three!

First up is Avani. I figured Avani would be a challenge since she's not a very typical colour. She's a mixed bred GSD. Her father is a purebred GSD while her mother is a purebred pyrenean mastiff. I really like the results that I did in the custom tool though! The only big difference is, the real Avani has semi-erect ears hehe.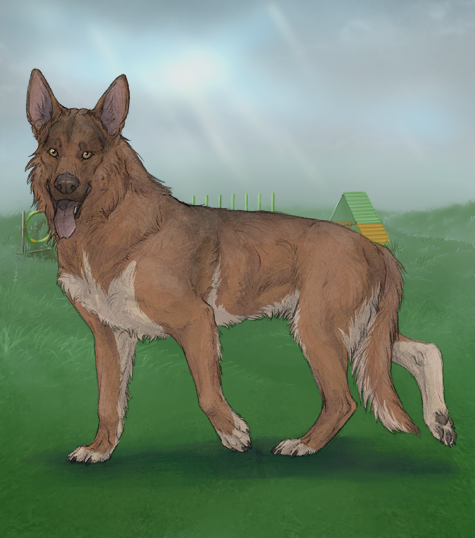 Dogs Put Down: 0 | Dogs Died In Care: 6 | Training Sessions: 84
Dogs in "Sieg'Mut Kennel"

- in heat |

- up for auction |

- up for sale |

- up for bone sale |

- up for stud|

- pregnant dog
| | |
| --- | --- |
| 3rd Generation+: | 2nd Generation: |
| 1st Generation: | For Sale: |
Account
Account Type: basic

User Records - [ x view more ]

01-15-2018 11:57 PM : Your dog Aldae vom Sieg\'Mut and its companion the Confused Stork brought you a(n) Raw Steak.
01-4-2018 11:57 PM : Happy Birthday MusicNote-Angel from Alacrity! You have received a Birthday Cake, which is now in your inventory!
01-1-2018 11:57 PM : Your dog Aldae vom Sieg\'Mut and its companion the Confused Stork brought you a(n) Mountain Lorikeet.
12-15-2017 11:57 PM : Your dog Aldae vom Sieg\'Mut and its companion the Confused Stork brought you a(n) Malt Eggs.
12-1-2017 11:57 PM : Your dog Aldae vom Sieg\'Mut and its companion the Confused Stork brought you a(n) Gingerbread Dog House.