Sheesh, this stuff is so expensive! You could probably find it cheaper in user shops.
Perhaps you are looking for the Junkyard to get rid of some broken down items?.
---
Hardcore Pups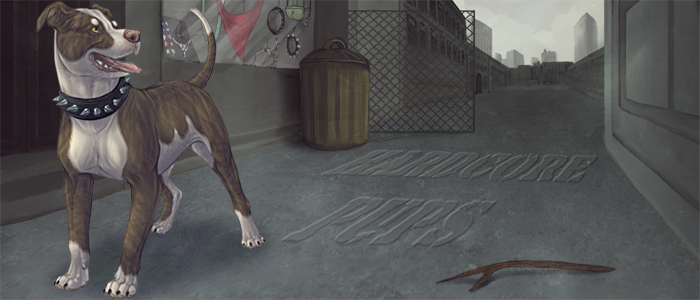 Whether you're going for style or attitude, accessorize your pup and make him or her unique in their own way here!
---
Back

Leather Lead
Price: $200
Amount In Stock: 6





Backpack
Price: $750
Amount In Stock: 18





Stick
Price: $300
Amount In Stock: 22





Chain Leash Collar
Price: $400
Amount In Stock: 10





Golden Tiara
Price: $3500
Amount In Stock: 8





Blue Harness
Price: $1000
Amount In Stock: 7





Chain Collar
Price: $300
Amount In Stock: 6





Polka Dots Stamp
Price: $150
Amount In Stock: 10





Red Bandana
Price: $400
Amount In Stock: 12





Green Harness
Price: $1000
Amount In Stock: 5





Red Lead
Price: $200
Amount In Stock: 8





Yellow Bows
Price: $50
Amount In Stock: 39





Silver Tiara
Price: $2500
Amount In Stock: 5





Silver Earrings
Price: $100
Amount In Stock: 11





Gold Earrings
Price: $100
Amount In Stock: 10





Red Bows
Price: $50
Amount In Stock: 33





Blue Bows
Price: $50
Amount In Stock: 21





Blue Bandana
Price: $400
Amount In Stock: 12





A.L.A.C. Vest
Price: $950
Amount In Stock: 45





Bone Stamp
Price: $150
Amount In Stock: 17





Red Harness
Price: $1000
Amount In Stock: 7





Large Red Collar
Price: $350
Amount In Stock: 10





Large White Collar
Price: $350
Amount In Stock: 14





Red Leather Spiked Collar
Price: $175
Amount In Stock: 14





Green Lead
Price: $200
Amount In Stock: 8





Mangled MP3 Player
Price: $250
Amount In Stock: 40





Black Leather Spiked Collar
Price: $200
Amount In Stock: 13





Green Bows
Price: $50
Amount In Stock: 21





Small Blue Collar
Price: $400
Amount In Stock: 14





Small Red Collar
Price: $400
Amount In Stock: 12





Silver Studded Harness
Price: $400
Amount In Stock: 16





Aces Stamp
Price: $150
Amount In Stock: 10





Purple Bows
Price: $50
Amount In Stock: 36





Sun Hat
Price: $400
Amount In Stock: 49





Rope Toy
Price: $100
Amount In Stock: 14





Trek Booties
Price: $527
Amount In Stock: 17





Green Bandana
Price: $400
Amount In Stock: 17





Zip Line
Price: $367
Amount In Stock: 16





Small Green Collar
Price: $400
Amount In Stock: 16





Gold Studded Harness
Price: $400
Amount In Stock: 12





Large Black Collar
Price: $350
Amount In Stock: 46





Dog Muzzle
Price: $150
Amount In Stock: 24





Stuffed Puppy Toy
Price: $250
Amount In Stock: 18





Blue Tailed Skink
Price: $300
Amount In Stock: 12





Red Bone Collar
Price: $300
Amount In Stock: 18





Yellow Star Collar
Price: $300
Amount In Stock: 10





Blue Puzzle Collar
Price: $300
Amount In Stock: 14





Green Leaf Collar
Price: $300
Amount In Stock: 17





Orange Star Collar
Price: $300
Amount In Stock: 18





Green Shemagh
Price: $2000
Amount In Stock: 14





Blue Plaid Collar
Price: $2000
Amount In Stock: 17





Red Plaid Leash
Price: $1000
Amount In Stock: 18





Blue Plaid Leash
Price: $1000
Amount In Stock: 10





Red Plaid Collar
Price: $2000
Amount In Stock: 13





Green Plaid Leash
Price: $1000
Amount In Stock: 19





Green Plaid Collar
Price: $2000
Amount In Stock: 19





Paisley Red Bandana
Price: $1000
Amount In Stock: 13





Paisley Green Bandana
Price: $1000
Amount In Stock: 18





Paisley Blue Bandana
Price: $1000
Amount In Stock: 12





Bone Bandana
Price: $1000
Amount In Stock: 17





Bone Collar
Price: $2000
Amount In Stock: 11





Bone Leash
Price: $1000
Amount In Stock: 12





Autumn Bandana
Price: $2000
Amount In Stock: 14





Fall Leash
Price: $2000
Amount In Stock: 12





Moon Leash
Price: $2000
Amount In Stock: 17





Fall Collar
Price: $2000
Amount In Stock: 16





Moon Collar
Price: $2000
Amount In Stock: 16





Snowy Collar
Price: $2000
Amount In Stock: 19





Snowy Leash
Price: $2000
Amount In Stock: 18





Snowy Jacket
Price: $10000
Amount In Stock: 16





Normal Ball Python
Price: $5000
Amount In Stock: 24





Panda Pied Ball Python
Price: $7000
Amount In Stock: 18





Super Black Ball Python
Price: $7000
Amount In Stock: 22